Chairs of the Committees

Mr. Ashley Ian Alder, Chair of the IOSCO Board
Ashley Alder is the Chief Executive Officer of the Hong Kong Securities and Futures Commission. Mr. Alder came to Hong Kong in 1989 with the international law firm Herbert Smith, practicing corporate and business law. He was Executive Director of Corporate Finance at the SFC from 2001 to 2004, before returning to Herbert Smith, later as head of the firm's Asia Region. He rejoined the SFC in 2011.
Mr. Alder attained his Bachelor of Laws degree from the University of London in 1982 and graduated from the University of Cambridge with a Master of Laws degree in 1983.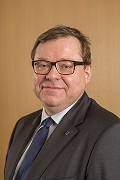 Mr. Jean-Paul Servais, Vice Chair of the IOSCO Board, Chair of the European Regional Committee (ERC) and Chairman of the Finance and Audit Committee
Jean-Paul Servais is Chairman of Belgium's Financial Services and Markets Authority (FSMA), and a member of the Board of Supervisors of the European Securities and Markets Authority (ESMA). At ESMA, Mr. Servais also serves as Chair of the Financial Innovation Standing Committee (FISC), which is responsible for monitoring the trends in financial innovation and in FinTech. FISC advises on guidelines and recommendations, product intervention and other measures to prevent inappropriate financial innovation that may cause a disadvantage to consumers or pose a threat to financial stability.
Mr. Servais is a member of the European Systemic Risk Board (ESRB) and of the Euronext College of Regulators.
Dr. Heath P. Tarbert, Vice Chair of the IOSCO Board
Dr. Heath P. Tarbert is Chairman and Chief Executive of the U.S. Commodity Futures Trading Commission (CFTC). He was nominated for a term expiring on April 13, 2024 and took office on July 15, 2019. The mission of the CFTC is to strengthen the American free-enterprise system by ensuring the integrity of the futures, swaps, and options markets by fostering openness, transparency, competitiveness, innovation, and financial stability. The agency's approximately 700 personnel based in Chicago, Kansas City, New York, and Washington, DC also work to ensure U.S. commodities and derivatives markets are free of fraud and manipulation. Chairman Tarbert also serves as a voting member of the Financial Stability Oversight Council (FSOC) and as a member of the President's Working Group on Financial Markets.
Chairman Tarbert has extensive experience in financial services law and has served in senior leadership roles in the public and private sector. Most recently, he served as Assistant Secretary for International Markets and subsequently as acting Under Secretary for International Affairs at the U.S. Department of the Treasury. In these roles, Chairman Tarbert served as the G-7/G-20 Deputy Finance Minister, a member of the Financial Stability Board, and the co-chair of both the US-EU Financial Regulatory Forum and the US-UK Financial Regulatory Working Group. Prior to his service at the Treasury Department, Chairman Tarbert was head of the bank regulatory practice of Allen & Overy LLP, a leading global law firm.
He holds a DPhil in Comparative Law from Oxford University (2005), a SJD in Financial Regulation from the University of Pennsylvania (2002), a JD (magna cum laude) from the University of Pennsylvania (2001), and a BS (summa cum laude) from Mount St. Mary's University (1998).

Dr. Obaid S. Al Zaabi, Vice Chair of the IOSCO Board, Chair of the Growth and Emerging Markets Committee (GEMC)
HE Dr. Obaid Saif Hamad Al Zaabi is the Chief Executive Officer of Securities and Commodities Authority (SCA) and has over 28 years of work experience in financial legislation, accounting, banking, finance and investment, and Shari'ah-compliant finance from many leading financial institutions in the United Arab Emirates, such as the U.A.E. Central Bank, Dubai Islamic Bank, Amlak Finance, and the Securities and Commodities Authority (SCA). He has been working with SCA since year 2008 and has handled various roles and responsibilities and various challenging assignments.
Dr. Al Zaabi earned his PhD in Banking & Finance from Durham University, UK in 2006 and a distinction in his MBA from (AASTM-ALO) in 2000. He graduated from the UAE University in 1989 with a BSc. in Business & Accounting. Mr. Al Zaabi is also a full member of the Australian Institute of CMA, the Auditing & Accounting Organization for Islamic Financial Institutions (CIPA) and the UAE Auditors and Accountants Association. He represents the Gulf Regulatory Authorities in the International Federation of Accountants (IFAC) as member of the Consultative Advisory Groups of the International Auditing and Assurance Standards Board (IAASB) as well as the International Ethics Standards Board for Accountants (IESBA). Mr. Al Zaabi is a member of the board of directors of the GCC Accounting and Auditing Organization (GCAAO).
He has been accorded with various awards and recognition including "Middle East Financial Markets Excellence Award" by The Middle East Excellence Awards Institute, 2016 and "Distinguished Chief Financial Officers (CFOs) in the Financial Sector" award offered by the British Magazine "Finance Monthly", 2016. Dr. Al Zaabi has also delivered a series of keynote lectures and courses to both undergraduate and post-graduate students at Sharjah University and the British University in Dubai.

Mr. Sergey Shvetsov, Vice Chair of the Growth and Emerging Markets Committee (GEMC)
Sergey Shvetsov is the First Deputy Governor of the Bank of Russia and a member of the Bank of Russia Board of Directors.
Mr. Shvetsov is responsible for promoting the development of the Russian financial markets. Specifically, he is in charge of the Bank of Russia´s activities regarding the regulation of non-credit financial institutions such as market intermediaries and infrastructures and involving competition in the financial markets, corporate governance, protection of retail investors, countering market manipulation and illegal use of insider information. Mr. Shvetsov also coordinates the Bank of Russia´s interaction with IOSCO, ESMA, AFI, ICMA, ISDA and foreign financial markets regulators.
Previously at the Bank of Russia, he was responsible for monetary policy, the development of financial instruments and systemically important market infrastructures as well as international cooperation. In addition, Mr. Shvetsov gained valuable experience as a Deputy Head of a commercial bank.
Mr. Shvetsov holds a Specialist Degree in Economics from Lomonosov Moscow State University.

Mr. Yusuf Kaya, Vice Chair of the Growth and Emerging Markets Committee (GEMC)
Mr. Yusuf Kaya is a Board Member of the Capital Markets Board (CMB) of Turkey. His main focus areas are market surveillance and oversight, enforcement, and accounting standards. Mr. Kaya has contributed to the work of IOSCO and other international organizations, particularly the FSB and FATF, and has represented the CMB in international fora. Before being appointed to the Board of the CMB in October 2020, he served as CMB's Executive Vice Chair since 2016.
In addition to his tasks at the CMB, Mr. Kaya is currently the Chairman of the Capital Markets Licensing Registry and Training Agency, which carries out the licensing, registration and training of capital market professionals working at financial institutions and listed companies in Turkey. During his career, Mr. Kaya has also served as the Head of the CMB Enforcement Division.
Mr. Kaya has a PhD degree in Economics (Istanbul University) and a Master's degree in business administration (Duke University's Fuqua School of Business).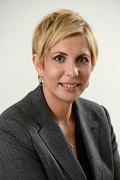 Ms. Nezha Hayat, Chair of the Africa / Middle-East Regional Committee (AMERC)
Nezha Hayat is the President of AMMC – Morocco's Capital Market Authority, following her appointment in February 2016 by His Majesty the King Mohammed VI.
An ESSEC Business School Paris graduate, she started her career in Spain by working in several banks both in investment banking and private banking. From 1995 to her nomination, she worked at Société Générale Marocaine de Banques where she became in 2007, the first woman on a management board of a bank in the country.
In 1999, she was elected President of the Association of stockbrokers in Morocco for two terms. She co-founded in 2012 the Moroccan chapter of Women Corporate Directors – CFA Maroc, to promote women in corporate boards.
Nezha received an award for her "outstanding contribution to financial and professional services", by the G8 in June 2013 in London.
As the Chairperson and CEO of the AMMC, Ms. Hayat is a member of the Board of The Supervisory Authority of Insurance and Social Welfare (ACAPS) and a member of the Coordination and Systemic Risk Monitoring Committee (CCRS).
She was decorated by His Majesty the King Mohammed VI, Officer of Wissam Al Arch (Order of the Throne) in 2013 and in 2019, she was awarded by Spain Commander of the Order of Civil Merit.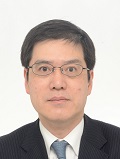 Mr. Tokio Morita, Chair of the Asia-Pacific Regional Committee (APRC)
Tokio Morita is Vice Minister for International Affairs at Japan Financial Services Agency (JFSA) and has over 35 years of work experience in the field of financial regulation and supervision.
Before assuming the current responsibilities in July 2020, Mr. Morita was Director-General of Strategy Development and Management Bureau where he led a number of professional teams in areas such as harmful but legal conduct, AML/CFT, crypto-asset trading platform, cyber-security/IT systems and internal audit of financial institutions, among others. Prior to that, he was Secretary-General, Securities and Exchange Surveillance Commission (SESC) of Japan, which is responsible for conducting surveillance and oversight of securities and derivatives markets, including taking enforcement actions.
Mr. Morita was the chairperson of IOSCO Standing Committee 3 (transformed to Committee 3 in 2012) from November 2007 to September 2009. During the time of global financial crisis, he was engaged in rulemaking for regulation and supervision for investment banks and broker-dealers.
Mr. Morita was also a member of the Basel Committee on Banking Supervision and the Resolution Steering Committee of Financial Stability Board between 2012 and 2015. In that capacity, he was engaged in international financial regulatory reform, such as margin requirements for non-centrally cleared derivatives and work on the recovery and resolution framework for CCPs and financial institutions such as global investment banks.
Mr. Antonio Quesada, Chair of the Inter-American Regional Committee (IARC)
Antonio Quesada serves as Vice-President of Regulatory Policy at the National Banking and Securities Commission (CNBV) of Mexico. He has over 30 years of professional experience in the financial and corporate sectors. Prior joining the CNBV, Mr. Quesada was the Dean of the EGADE Business School, the leading business school in Mexico, Santa Fe campus. In 2012, he served as President of the Mexican Institute of Finance Executives. H worked for 30 years at PwC where he was the Leading Partner of Clients and Markets and served as a member of the PwC Board. He is well experienced in corporate governance matters and played a crucial role in aligning the Mexican Code of Best Corporate Practices with international standards. Mr. Quesada also managed the filing of public offerings of foreign companies on the US stock markets.
Mr. Quesada represents the CNBV at the following international organizations: IOSCO Board, the Basel Committee on Banking Supervision (BCBS), several FSB Standing Committees, the Board of the Alliance for Financial Inclusion (AFI), North American Region at the Association of Supervisors of Banks of the Americas (ASBA), and Board of ASBA. He currently chairs IOSCO´s GEMC Fintech Working Group and is a member of the IOSCO Audit and Finance Committee (FAC).
Mr. Quesada has an Accounting degree from the Universidad Iberoamericana in Mexico City, a Master´s in Business Administration from the Instituto Tecnológico Autónomo de México (ITAM) and a Master´s in Accounting from ITAM and Florida International University.He carried out the D-1 Leadership Program at the IPADE Business School. Mr. Quesada is a Chartered Public Accountant and is currently enrolled in the PhD Program in Financial Sciences at the EGADE Business School.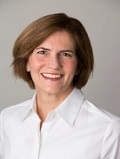 Ms. Karen K. Wuertz, Chair of the Affiliate Members Consultative Committee (AMCC)
As NFA's Senior Vice President of Strategic Planning and Development, Ms. Wuertz is responsible for NFA's international activities, Member educational initiatives, investor education, corporate communications, media, and legislative issues. Ms. Wuertz joined NFA as it was being created. Throughout her NFA career, Ms. Wuertz has had extensive experience in the areas of rule-making, examinations, investigations, system development and enforcement.
Ms. Wuertz also had the opportunity to step aside from her derivatives regulatory career to lead the development and construction of a 33 story office tower in Chicago. This experience prepared Ms. Wuertz to tackle the unexpected, to negotiate and build consensus among many entities with various motives, build extensive networks, and manage budgets and spending of hundreds of millions. Ms. Wuertz also spent part of her career at the Chicago Stock Exchange overseeing its financial operations.
Ms. Wuertz is currently Chair of the Affiliate Members Consultative Committee of the International Organization of Securities Commissions (IOSCO). She co-chaired an IOSCO subcommittee to develop and publish a formal paper entitled "Model for Effective Self-Regulation".
She holds a CPA in Illinois, a Masters in Management from the Kellogg Graduate School of Management at Northwestern University and a Bachelor of Science degree in Accounting from the University of Illinois.